© All rights reserved.

Best GPS Cameras

We all love our smartphones. They are tiny, and yet powerful computers, and most of them can fit in pretty much any pocket, right? Not to mention that they also include a camera and a GPS chip, which makes them the perfect tool to snap and automatically geotag pictures.

Still, as much as I'd love my modern Samsung phone, I feel a bit envious whenever I see images that were snapped by my friend's Canon EOS camera. Yes, those pictures look fantastic! And why wouldn't they look better than mine, when the camera's CMOS sensor and lens are huge?

If you feel the same, you've probably outgrown the smartphone camera, and you are ready to go to the next level. Fortunately, some DSLR cameras (not too many, though) also incorporate a GPS and Wi-Fi features, making it really easy to geotag your photos on the fly. Of course, if you are away from the router, you may need an external Wi-Fi antenna and a cable.

Here are my recommendations.

Nikon D5300 isn't the newest model in the series, but its price is very affordable for what it has to offer. You can buy this camera and a decent lens kit for only $700, or, if you've already got a lens, you can buy the camera body for $600.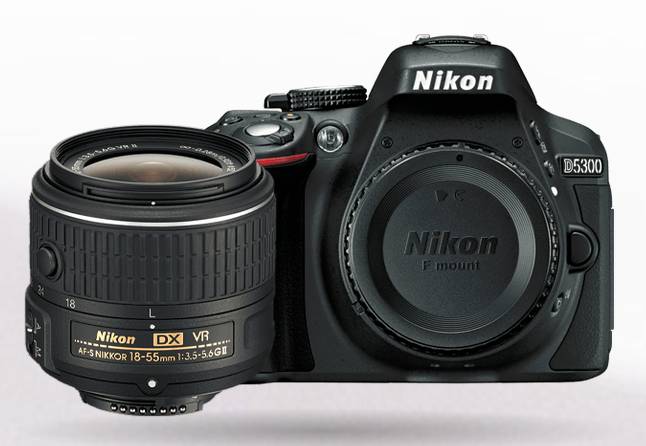 The D5300 model is built out of a special polycarbonate, and it only weighs 1.06 pounds. It has a good 3.2-inch display, and you can take up to 600 pictures (100 more in comparison with the previous D5200 model) until the battery is fully discharged. The CMOS sensor has a 24 megapixel sensor.

You can tell the true quality of a camera by using it in low light conditions. And this is an area where Nikon D5300 really shines, because images look fantastic! Also, if you like to tweak your photos, there are nine categories of creative special effects, along with the standard image control options: brightness, saturation, etc.

Unlike the D5200, this new camera has support for Wi-Fi and GPS right off the bat. This means that, besides geotagging, you can also use it to send the captured images wirelessly to a computer, a tablet or a smartphone, and then quickly share them with your Facebook friends.

Let's get back to the geotagging system, though: it is able to store the latitude, longitude and altitude of the place where your picture was taken. Then, you can use the included software to create a good looking travel map, which can be uploaded to your favorite image hosting service.

The camera can also record vivid movies in Full HD mode. Frame rate can reach 60 frames per second, which should be enough for most people. You can't record time lapse videos, I'm afraid, but most people don't need them anyway.

Aren't you excited to discover the next camera? Canon EOS 6D looks great and is able to take amazing pictures! Sure, it costs more money ($1,300, to be more precise), but hey, you are purchasing a high-quality Canon DSLR, right?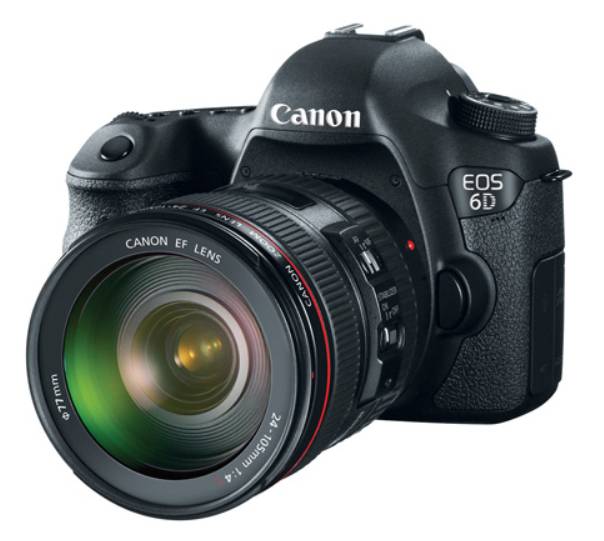 This camera is quite compact, considering the fact that it has a full size, high quality 20 MP full-frame CMOS sensor. It has a decent 3-inch screen, GPS support (that's why it's on this list, after all) and can record videos in Full HD mode, just like Nikon D5300.

Wi-Fi features are highly commendable; you can connect the camera straight to your smartphone, and even to another Wi-Fi camera or printer! And the EOS Remote app makes it a breeze to control the camera using either an Android or iOS device.

Battery life is rated at over 1,000 shots. Of course, if you plan to make heavy use of the live view display, Wi-Fi transfers and GPS, that number will stabilize around 500 or so. I'd say it's more than enough for people who don't make a living taking pictures. And if you need more battery juice, you can always purchase an extra battery from Canon.

Of course, if you don't need professional level photos, you can purchase an inexpensive, compact camera that includes a GPS. Nikon Coolpix W300 only costs $390, and you are getting a lot of value for your money.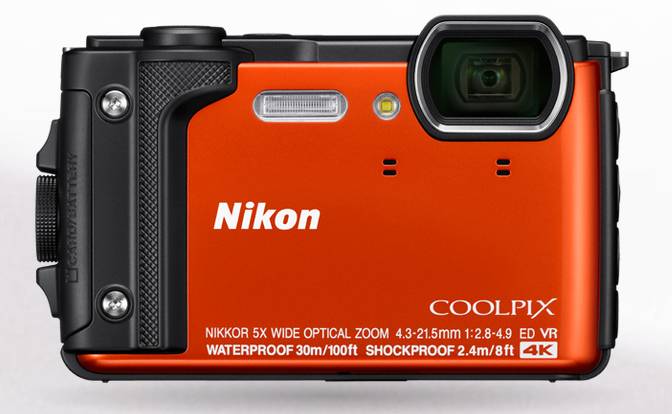 The CMOS sensor has 16 million pixels and takes good pictures, for example. You get a NIKKOR lens with a decent 5x optical zoom, autofocus, and a standard 3-inch display. Please be aware that the internal memory can only store about 100 MB, so you won't be able to keep more than a dozen or two of high-quality pictures on it. Fortunately, the camera can work with SD cards, including the much faster SDHC and SDXC standards. Buy a card of 128 GB or 256 GB, for example, and you'll be OK.

Movie recording capabilities are way above the average for its category; this camera can even record in 4K UHD mode! And unlike Canon EOS 6D, it's got a built-in flash. The GPS receiver works using the WGS geodetic standard. A fully charged battery will last for about 200 pictures, or for one hour, if you are recording a movie.

If you want to purchase a good pocket-sized camera which also includes a GPS and can geotag pictures the moment you've taken them, Nikon Coolpix W300 is certainly a solid option.